So I'm excited to roll out week two of the meme!
Don't forget to grab the button using the code from my sidebar
and proudly display it on your page once you've been featured!!
This week, I would like to introduce you to Niki at
She is super sweet and I have loved getting to know her through her blog and email!
Plus, she tweets a lot and I like that in a gal :)
Here is her intro!

"My name is Niki and you guessed it I am an Air Force Wife. I have been married to Patrick for 11 years and we have two boys. Sebastian is our oldest and he will be 10 years old this year. Brendan is our "baby" and he will be 7 this year. We live in North Carolina. Patrick has been in the USAF for 16 years. We met online in 2000 and got married a few months later. I have my AAS in paralegal studies and getting ready to go back to school for my BAS in paralegal studies.
My blog is about my life as a mil spouse I talk about my kids, the books I am reading and anything else that happens to hit my fancy. I also hope to become a published author one day. I hope you enjoy reading about my life and I hope that we become bloggy pals."
Also, grab her button here: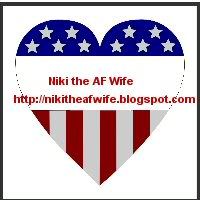 She and I bonded because we both met our husbands online
and married them soon after.
Sometimes, when ya know, ya know!
She's also doing a "get to know me" group of posts lately,
so it would be a great time to go become a fan!
Remember to leave her some comment and follower love!
And if you or someone you know is a new blogger,
email me at
acreedandapsalm@gmail.com
and we will get you featured!
Happy Tuesday :)