Welcome back for the What's YOUR Song? Link-up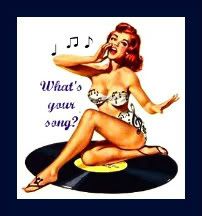 This week my song is from a band that my husband recently introduced me to
called the Dirty Guv'nahs
If you like the Kings of Leon, you will love these guys.
Also, a cool sidenote,
If you do like the song, then hit up their facebook page
or find them
to upload their ENTIRE new album for FREE.
And who doesn't love free??
Anyway, I LOVE this song, and even though it doesn't have a cool video
I decided I would share it anyway :)
I think it has a great message!
Also, I'm getting really nervous,
because coming up on Monday
I go back to the hospital to get more blood drawn
This time it's progesterone levels to see if I'm even ovulating.
Scary, because if I'm not,
that means we're facing a whole new host of problems.
And I can't fathom dealing with that.
The doctor even looked at me at my last appointment and said,
"Hmm. I don't get it. You're young and healthy, your husband is young and healthy...
This should be working for you."
Yeah. I know.
I'm crossing my fingers SO HARD that when I get to my next appointment on the 17th
something miraculous might have happened.
I feel like I pray about it all the time.
Even since my Wal-Mart epiphany where I decided I didn't want to go as extreme as plotting my basal body temperature on charts that looked like NASA took ten years designing them
or denying my husband if our schedule wasn't conforming to "every other day" precisely
or buying ten different kinds of ovulation predictor kits
or all this other stuff.
Yes I want a baby,
but I also don't want my husband and I's love life to be so structured neither of us enjoys it anymore.
So we'll see.
Please keep your fingers crossed and prayers going for us this month
We want this so bad.