Head on over to
Flip Flops and Combat Boots
to link up your five for this week!!!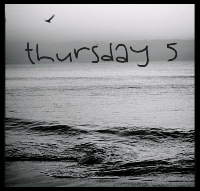 I love where I live! Almost every day I get woken up (sometimes quite rudely) by the sound of F-18 Hornet engines as the Blue Angels pass so close over the top of my house I can read every letter written on their undersides! It really is
fascinating
to see all that beautiful power so close to me, and know that people travel to see them perform, when I only have to look out my window.
Tomorrow is going to be wonderfully
pleasant
, as I get to attend a spouse's coffee on base in the morning, and then my milwives small group at church in the evening. I love the people I have met here so much!!
Had a
sweet
treat
tonight after my butt-busting spin class... go to my other blog to get the super easy recipe!
I have started a workout routine (which I haven't done since high school) that I am trying really hard to stick to. Even though I'm thin, I'm really not healthy, and my thighs are massive lol. So I have tried a few classes and run five days a week. Tonight I looked in the mirror after my cool-off shower, and I could see the muscles in my calves and thighs for the first time!!! I felt
sensational
!
I was at a friend's wedding last weekend, and I sent him a message that I really wish he had been able to come with me to it, and I hoped being married to me these past six months has made him happy, and he responded "You are what makes me happy! I do enjoy getting to serve, but it isn't nearly as much as I love you." It was the most
heartwarming
thing, and I definitely teared up! Love that man :)